Global Rhythms Music Series at Town Hall Seattle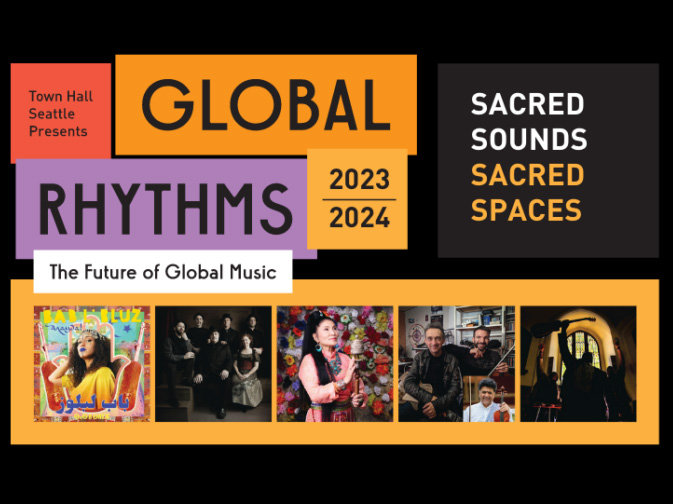 Event Type
Cultural Events, Performing Arts
Starting Date
December 7, 2023
Ending Date
May 4, 2024
Location
Town Hall Seattle
Neighborhood
First Hill
Cost
$25 General Admission
Description

Town Hall Seattle presents Global Rhythms! Delving into the transcendent power of sacred music, Global Rhythms presents five acts representing five spiritual practices from across the world.

Scheduled lineup:

Hanukkah Dance Party featuring The Klezmatics – Dec. 7
Immerse yourself in the vibrant and eclectic sounds of the globally renowned Klezmer superstars, The Klezmatics. On the first night of Hanukkah, Town Hall Seattle will come alive with the soul-stirring melodies and foot-stomping rhythms that have earned The Klezmatics a Grammy award and a place in the hearts of music lovers worldwide.

Soul-Stirring Tibetan Sounds featuring Yungchen Lhamo – Jan. 26
Embark on a soul-stirring journey and immerse yourself in the ethereal and captivating vocals of world-renowned singer Yungchen Lhamo. Hailing from Tibet, Lhamo's voice resonates with a spiritual power that transcends borders. Her unique blend of traditional Tibetan chants and contemporary melodies creates an otherworldly experience that will leave you spellbound as she weaves ancient tales of wisdom through her enchanting voice.

Global Grooves: Music from North Africa, Italy, and India featuring Justin Adams & Mauro Durante with special guest Ganesh Rajagopalan – March 1
Prepare for an unforgettable journey across continents and genres as the virtuosic musicians Justin Adams and Mauro Durante come together with a special opening performance by Ganesh Rajagopalan to create a truly unique experience.

Sacred Steel Revival featuring The Campbell Brothers – May 4
Get ready for a soulful revival with The Campbell Brothers! The Great Hall will come alive with the electrifying sounds of The Campbell Brothers. Hailed as masters of sacred steel, this band brings fresh and soulful energy to their performances. Immerse yourself in their mesmerizing fusion of African-American gospel, blues, and steel guitar.